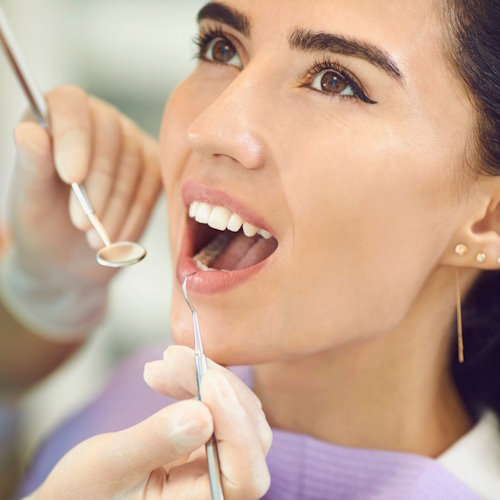 At John G. Portschy, DDS in Marietta, we recognize dental cleanings' crucial role in maintaining superior oral health. Our team of skilled dental experts is committed to offering cost-effective dental cleanings to enhance your oral well-being and give you a radiant, wholesome smile.
Dental cleanings serve as an essential component of preventive dental care. They eliminate plaque and tartar accumulations from your teeth and gums, which, if neglected, can result in tooth decay, periodontal disease, and various other dental complications. Consistent dental cleanings can avert these issues and preserve the health of your teeth and gums.
While you are having a dental cleaning session at John G. Portschy, DDS, our hygienists employ advanced instruments to delicately clear plaque and tartar from your teeth. They will also conduct a comprehensive examination of your oral cavity to detect any indications of dental conditions. This encompasses looking for cavities, periodontal disease, and oral malignancies.
When you visit us for a dental cleaning, we aim to provide a serene and pleasurable experience. Our amiable team will make sure you are relaxed during the entire session and will address any inquiries you might have regarding the cleaning procedure or your dental health.
The regularity of dental cleanings is contingent upon individual needs. Typically, dental cleanings are advised every three to six months. Nonetheless, some people might need more recurrent cleanings, particularly those with a history of periodontal disease or other dental complications.
Failing to have regular dental cleanings can pose substantial risks to your oral health, leading to tooth decay, periodontal disease, and halitosis and elevating the risk of severe dental conditions like tooth loss. Regular dental cleanings enable you to circumvent these complications and sustain a healthy, bright smile.
If you're searching for trustworthy dental care for your cleaning needs in Marietta, John G. Portschy, DDS is your ideal destination. Our adept dentists and hygienists are devoted to delivering top-notch dental services in a warm and friendly atmosphere.
A Comprehensive Lineup of Dental Care Services All Under One Roof