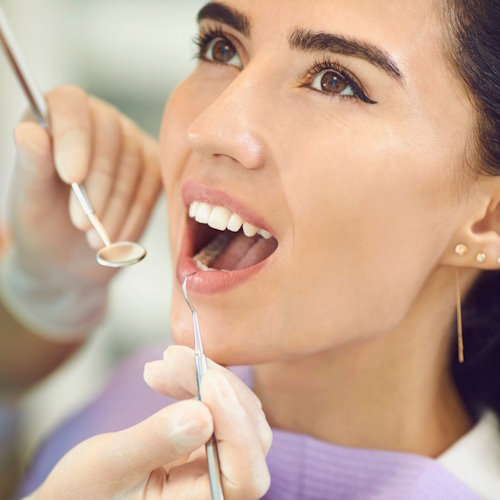 Regular dental cleanings are essential to any healthy oral hygiene plan. Our dental office offers comprehensive cleanings to help keep your smile looking and feeling its best. Our experienced hygienists use the latest professional cleaning tools to help remove plaque and tartar from your teeth and ensure your gums remain healthy. In addition, by scheduling regular cleanings, you can help reduce the risk of developing dental and gum diseases.
We understand that dental emergencies can happen, so our dental office is here to help when they do. Our experienced staff is available to provide urgent treatments and help alleviate any pain or discomfort you may feel. Whether the problem is a broken tooth, toothache, or infection, our team is here to help with prompt and compassionate care.
Our dental office offers efficient and durable filling treatments to help repair decayed or damaged teeth. Our team of experienced dentists uses the latest treatments and materials to help restore your smile and ensure your teeth remain healthy and strong. With our careful and effective filling procedures, we can help you maintain strong and healthy teeth for many years to come.
Our dental office provides dental extractions to help improve oral health. Extractions remove teeth or tooth roots if they are too damaged and cannot be saved. Decaying teeth may cause severe pain, swelling, and infection without timely extraction. When needed, our experienced team will provide the highest quality of care to make the extraction process as quick and comfortable as possible.
Our dental office offers high-quality root canals to save heavily decayed or infected teeth. Without a root canal, a tooth may be otherwise unsalvageable. Our experienced team will use advanced technology and tools to complete the root canal procedure quickly and comfortably. We strive to provide fast and effective solutions to restore oral health.
Our dental office specializes in treating bite misalignment and TMJ. Poor bite alignment or TMJ disorders can cause discomfort, pain, and difficulty with speaking and eating. Using advanced technology, our knowledgeable team can provide effective solutions to realign the bite, improve jaw function, and reduce discomfort.
Our dental office provides periodontal treatment to help treat periodontal diseases and improve oral health. Periodontal diseases can cause tooth loss and bone decay if left untreated. Our team of experienced dentists utilizes the latest technological advancements to create customized treatment plans to ensure the best results.
At our dental office, we provide laser dentistry services. Laser dentistry is a modern dental technology that uses a dental laser for precise cutting and sculpting of the gums, teeth, and tissues, allowing for detailed treatment minimally invasively. Laser dentistry is often used in cosmetic and restorative dentistry, including the treatment of cavities and gum disease and accuracy in the placement of dental implants. Our laser dentistry treatments are efficient and pain-free, allowing for comfortable dental work and quick results.
Our dental office provides pediatric care for children of all ages. We strive to create a safe and calming environment for children to ensure they (and their parents) feel comfortable during the visit. Our dental team establishes a close relationship with the children we serve, providing our pediatric patients with the best possible dental guidance and treatments at every age. In addition, our pediatric care ensures that children receive the treatments needed to maintain healthy smiles and proper oral hygiene.
A Comprehensive Lineup of Dental Care Services All Under One Roof