Dental Crowns are a common dental restoration designed to cover a damaged or decayed tooth. Our dental office specializes in a wide variety of restoration services and offers several solutions for our patients depending on their individual needs. We use high-quality materials and the most advanced dental technology to ensure a beautiful restoration that will provide many years of natural-looking, trouble-free use.
Our dental office provides Implants, a tooth replacement option that is long-lasting, secure, and attractive. Implants are titanium posts that act as the root of the tooth. They are placed in the jawbone and covered with a crown to restore smile aesthetics and function for eating and speaking. Implants can help replace a single tooth or an entire set of teeth and last many years with proper care.
At our dental office, Inlays & Onlays are a tooth repair and restoration treatment option. Inlays & Onlays are custom-made from a durable material and are used to replace damaged portions of teeth. These pieces replace areas too large for small fillings but are set in tooth structure, preserving more natural teeth than crowns.
At our dental office, bridges are a fixed solution for replacing missing teeth to maintain the integrity of the bite. Bridges fill gaps left by one or more teeth missing. Bridges are usually made from porcelain, gold, or a combination of materials and are securely bonded to healthy teeth on either side of a gap. As a result, bridges resemble natural teeth and restore chewing function and aesthetics.
Dentures & Partials provided by our dental office can replace one or more missing teeth, restore chewing function, fill in facial features, and increase confidence in your smile. Dentures are removable replacement teeth, while partials are removable replacement teeth that use existing teeth for stability. Both have custom bases closely resembling gum tissue and feature natural-looking artificial teeth.
Implant Supported Dentures
Our dental office provides Implant Supported Dentures, an alternative to traditional dentures. These dentures are secured to multiple implants, increasing stability and reducing the need for adhesives. Implant-supported dentures are the most secure way to replace an entire dental arch.
Our dental office provides Nightguards & Retainers, custom-made appliances that provide protection and orthodontic care. Nightguards are worn at night to protect teeth from damage due to night-time grinding. And retainers help to maintain the results of orthodontic treatment, keeping teeth in their improved positions for lasting results.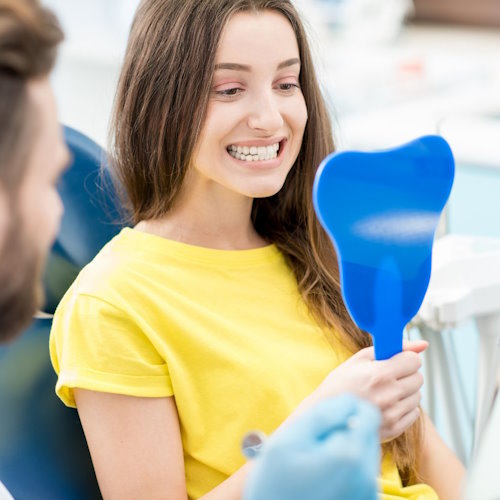 A Comprehensive Lineup of Dental Care Services All Under One Roof